When suffering from a foot or ankle injury, it is best to seek the knowledge of a skilled podiatrist to examine your injury for a proper diagnosis and treatment plan. Your feet and ankles are complex and it is crucial to the foundation of your body to ensure that they are properly taken care of. Some injuries are more severe than others, but it is beneficial to have a podiatrist determine the severity of a foot or ankle injury.
What is a Podiatrist?
A podiatrist is a medical professional who specializes in foot and ankle conditions. They have the knowledge and tools to properly diagnose your pain so that you can find relief and the right treatment.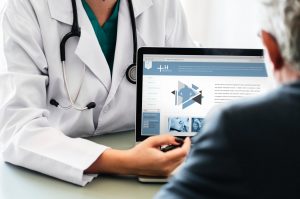 What are Common Foot and Ankle Injuries?
There are a number of different injuries that you can experience causing severe pain to your feet and ankles. Some are more common than others, like Plantar Fasciitis and injuries to your Achilles Tendon.
1.   Plantar Fasciitis
Plantar Fasciitis is known as irritation that occurs to the plantar fascia, which supports the natural arch of the foot. This connective tissue is a thick band that travels along the bottom of the foot. When this is injured, it will be quite painful, causing many people to stay off of their feet. Symptoms include a stabbing sensation and regular foot pain that develops gradually over time. The cause of Plantar Fasciitis can be due to repetitive stress, exercise, and extreme tension on the plantar fascia. If experiencing pain in the arch of your foot, seek help from a plantar fasciitis doctor Scottsdale.
2.   Jones Fracture
Putting extra stress or injuring the area of the middle/sides of your foot could be the result of a Jones fracture. This fracture is at the proximal end of the 5th metatarsal, which connects to the little toe. Oftentimes this fracture is confused with a sprain. However, a Jones fracture is caused by twisting your ankle and often occurs in athletes and dancers. The symptoms of a Jones fracture include swelling, bruising, pain in the foot, and difficulty walking.
3.   Achilles Tendon Injuries
The Achilles tendon is the largest tendon that runs from the calf muscles to the heel bone. This tendon can rupture, causing it to become inflamed and even degenerate. Micro tears can also become an issue. Symptoms of an injury to the Achilles Tendon include a burning and painful sensation in the heel as well as tenderness in the heel. This is caused by stress, overuse, and often times a lack of stretching before physical activity.
Treatment Plans
If your injury isn't too severe, you can usually treat it with plenty of rest, ice applications, and sometimes anti-inflammatory medications. Your podiatrist will be able to offer advice on how to treat these less severe injuries.
If your injury is severe, you may need additional treatment such as special orthotics and physical therapy. There are times when the injury is so severe that surgery might be needed.
For example, when treating a Jones fracture, surgery with hardware and screws will be necessary. It will take about an estimated 6 weeks to recover from surgery, and following that, you may need to use a walking brace until fully healed, which could take a total of about 4 months.
Why Choose The Foot and Ankle Center of Arizona
If you are suffering from foot or ankle pain, the Foot and Ankle Center of Arizona can help you get back on your feet. At the Foot and Ankle Center of Arizona, only the best techniques are offered to provide you relief from foot and ankle injuries. Our team will be able to properly examine and diagnose your injury to offer you the right treatment plan for relief and recovery.