To relieve pain from your big toe and the front part of your foot, you may need Arthrodesis Toe, which is a surgical procedure known as first Metatarsal-Phalangeal Joint (MTP) Arthrodesis.
When Do I Need Arthrodesis Toe?
The surgical procedure is designed to help relieve any pain in the front part of the point caused by a deformed MTP joint from an injury, arthritis or genetic defect by fusing the bone at the base of the big to the first metatarsal. Severe arthritis pain often causes many issues, often times pain near the front of the foot. Symptoms include pain around the base of the big toe and around the front of the foot. The discomfort is usually worse when wearing shoes and walking. Often times, it can be a same day procedure.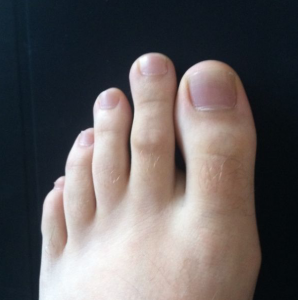 The Procedure
During the surgical procedure, your podiatrist will make sure that the top of your foot is clearly visible. During the procedure, you will experience no pain. The incision will be made above the MTP joint. Any cartilage between the bones will be removed and during this time, any misaligned bones will be realigned.
Then, to hold the toe in place, metal pins or screws are used. The big toe is then slightly angled upward to help with pain while walking. A bone graft may be needed around the joint to help with fusion. A metal plate may also help stabilize the toe by being placed about the joint.
After the procedure is finished, the incision will require surgical staples or sutures and to be bandaged with a special splint or half cast. You might also need to wear a wooden sole shoe or moving cast for about 6 weeks. The total recovery time is expected to be anywhere from 6 to 9 months.
Arthrodesis Toe at the Foot and Ankle Center of Arizona
The Arizona Foot and Ankle Center offers a variety of surgical procedures such as Arthrodesis Toe. We are home to the highly trained and experienced Dr. Kris DiNucci, who delivers exceptional patient care and treatment options. Our entire staff is friendly, efficient, and strives to deliver only the best results for each patient. If you are suffering from foot or ankle pain, schedule an evaluation with the Arizona Foot and Ankle Center today.