Total Ankle Replacement
The Foot and Ankle Center of Arizona now offers total ankle replacement surgery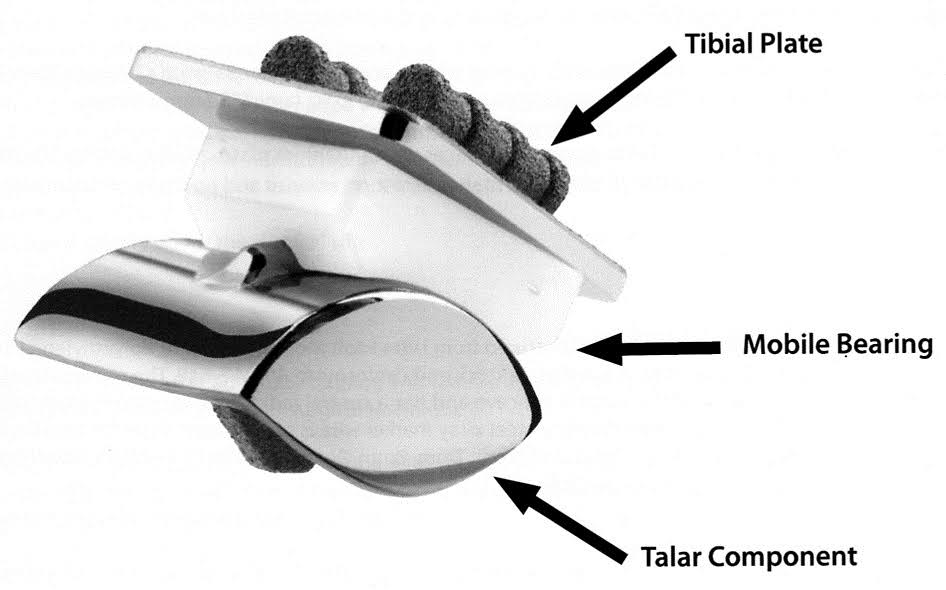 What is total ankle replacement?
Total ankle replacement surgery is the most innovative treatment today for end stage ankle arthritis. End stage ankle arthritis leads to severe pain with limitation of motion in the ankle joint and can limit daily activity levels.
The surgical procedure involves utilizing very precise instrumentation to remove arthritic bone from the existing ankle joint. The joint is then replaced with metallic components and ultra-high molecular weight polyethylene that articulates and restores motion of the joint.


Who is right for total ankle replacement?
Patients with end stage ankle arthritis are candidates for total ankle replacement surgery. Long standing ankle instability, Rheumatoid arthritis, and those patients who have sustained ankle fractures in the past are the most likely to experience end stage ankle arthritis. While there are no strict contraindications for this procedure, patient selection is important for successful outcome. Please contact us for information.


What is the recovery like after surgery?
The procedure can be performed in both inpatient and outpatient settings. Some patients are able to go home immediately after the procedure and some patients are kept in the hospital for 1-2 days. Patients are kept non-weight bearing for 2-4 weeks following the procedure. During this time the extremity is immobilized in a cast to control swelling and allow protection of the surgical site. Once the incision is healed, patients are allowed immediate protected weight bearing in a walking boot. This is a major advantage over ankle fusion surgery where patients are required to be non-weight bearing for up to 12 weeks. Patients are allowed to transition to normal shoe gear on average between 8-12 weeks after the surgery. Pain improvement is typically profound and patients can usually notice substantial improvement on their first post op visit.


What are the risks?
As with any surgery there are risks. The biggest concern is surgical site infection and wound healing issues. We take every precaution we can both in the operating room and during recovery to prevent the chances of infection. Our recovery protocol after the surgery is also designed to expedite wound and soft tissue healing.
Over time the total ankle components can wear out or shift and may need to be replaced. Patients are monitored very closely following the procedure to assess for changes in alignment or excessive wear of the components.


Case presentation:
71 year old male with bilateral end stage ankle arthritis. Patient had a long-standing history of ankle sprains, ultimately leading to progressive deterioration of the ankle joints. He elected to undergo surgical intervention and was successfully treated with total ankle replacement of both ankles. The procedures were performed 6 months apart.
Pre-operative x rays showing end stage ankle arthritis with total loss of cartilage and joint space: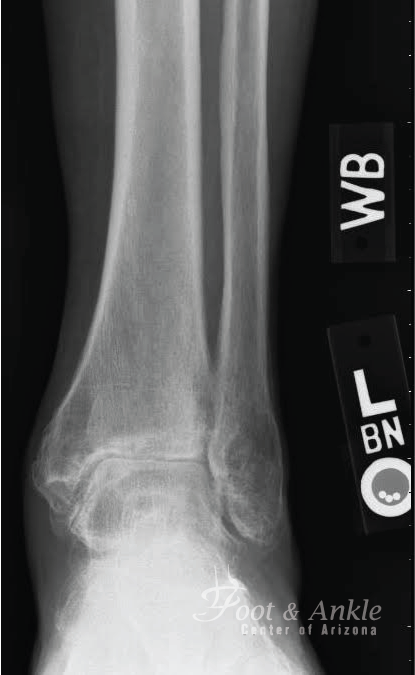 Post-operative X ray showing successful total ankle replacement: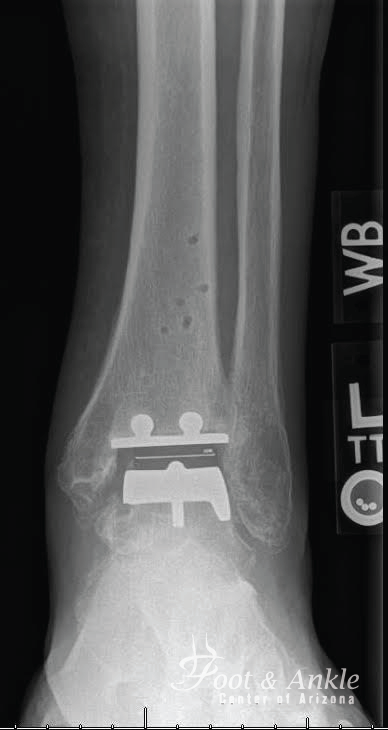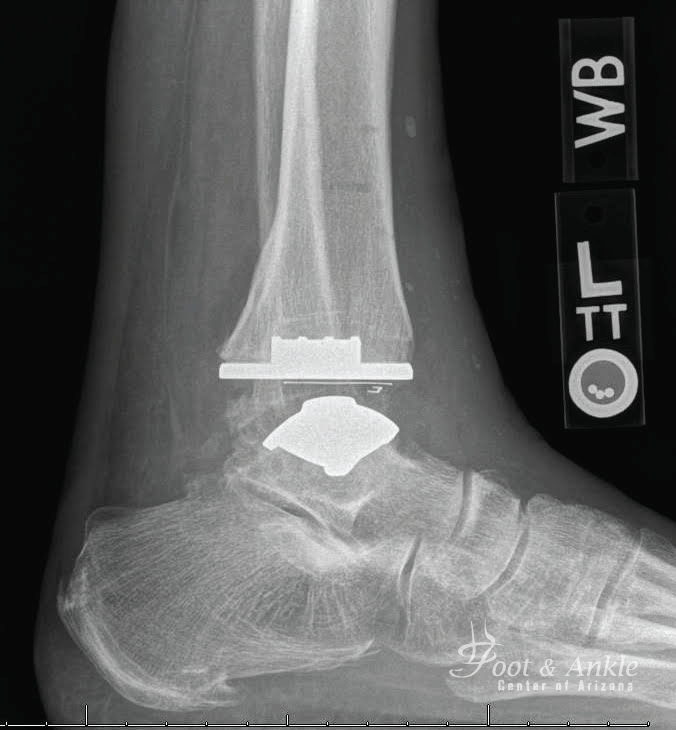 Testimonial:

Over the last 20 years I've had advancing arthritis, a worsening lack of cartilage in both ankles, causing escalating pain and have tried a number of exercise & drug therapies including cortisone, various pain medications and an experimental drug that was just over $3,000 (not kidding) at a well-known US pharmacy chain. I have a friend who is a pharmacist at Wal-Mart and she, going to the wall, got it down to $1100. Dr. DiNucci gave me a website for a Canadian pharmacy that got it for just under $500. The drug didn't work.
Finally we arrived at replacement. Early November 2014 and in May 2015, I had them replaced. The November ankle has rolled the clock back 25 years and the May one is rehabbing in that direction.
Dr. Kris DiNucci, Foot and Ankle Center of Arizona, has orchestrated the process and has done a great job for me. For the surgery, he referred me to one of the top US teams for the STAR ankle replacement, at the Palo Alto Medical Foundation, in California. He has since brought one of the team members, who was involved in both my surgeries, into his practice, Dr. Kenneth Hegewald.

If you have interest for you or someone else, their North Scottsdale office is at 480-342-9999 (Arizonafoot.com).
Total Ankle Replacement Video Documentation
Six Months Post Surgery:
Two Years Post Surgery: